Maxine Listens




by Dr. Lynda Mubarak




(Book II, Detective Maxine Hill Series)


Young Detective Maxine Hill is always busy performing community service, investigating issues, and exploring future careers. However, Maxine is facing a special challenge this year. This time it's very personal. Follow our little problem solver as she finds a solution for a unique situation. Detective Maxine HIll is on the case again and she's on the way back! If you enjoyed Maxine's New Job, you will like Book II of the series; Maxine Listens.
Book Excerpt: Maxine Listens
Maxine Listens #RWYK Great Read Certified
One afternoon Maxine Hill began to notice some changes in her vision during her math class. Her teacher, Mr. Norman, was explaining a process on the whiteboard and his writing was completely blurred. She knew she would eventually grow tired of asking Mr. Norman to repeat the instructions, even the ones written on the board. Maxine finally asked to be moved closer to the front of the class. After a few weeks she realized the new seating arrangement did not seem to be helping. Mr. Norman had also noticed her squinting her eyes on several occasions and decided to call Maxine's mother, Mrs. Hill, and discuss the situation.
"Mr. Norman, I am so glad you brought this to our attention. I am noticing how Max has to adjust her glasses several times when we are working on a puzzle, playing Scrabble, or watching a movie. I'll call our ophthalmologist and make an appointment immediately," said Mrs. Hill.
Maxine did not like the sound of that. She did not enjoy visits to the doctor's office, especially when her eyes had to be dilated.
"Oh no, not another eye appointment," Maxine uttered in a slow moan. "The eye drops don't hurt Mom, but the ride home is rough because the sun seems extra bright after my eyes are dilated."
"I know honey, but Dr. Chambers has to look inside those beautiful brown eyes to see what's going on," Mrs. Hill replied.
Maxine smiled.
That night, Maxine sat on the couch with her Dad watching TV. When she briefly took her eyes off the screen she caught a glimpse of her cat, Amos. He was sitting on her mother's favorite chair.
"Shoo Amos! Get down from there!" Maxine waved. Amos scurried off the chair onto the floor. "Wow!" she shouted, "I am so glad tomorrow is Friday! It's been a busy week at school and I'm looking forward to enjoying the weekend."
"Well," replied Mrs. Hill, tapping her foot against the carpet, "if you want to enjoy the weekend then you better head upstairs and get ready for bed. It's a school night. Do you know what time it is young lady?"
"Please Mom!" Maxine begged, "It's only 9:30 and tomorrow is Friday."
"I know honey," said Mrs. Hill as she sat down on her favorite chair, "but you need all the rest you can get because we have your early morning appointment with Dr. Chambers. I have your doctor's note prepared for the attendance office tomorrow explaining your late arrival, so go upstairs and get ready for bed. Right now!"
"OK Mom. I can't believe I forgot all about my eye appointment. Nighty-night, Dad," Maxine said reluctantly, dragging her feet across the floor and adjusting her glasses.
"What did you say Max?" Mr. Hill asked.
"I said . . . NIGHTY-NIGHT, DAD!" Maxine raised her voice and laughed.
Mr. Hill nodded and smiled as Maxine gave him a big hug, scooped up Amos and ran up the stairs. The next morning, Maxine and Mrs. Hill left early to avoid the traffic which seemed to swell between 6:30 am and 8:00 am, especially during the weekdays. Maxine noticed the construction workers drilling and operating the huge cranes as they passed the detour signs. The highway was filled with red dust blowing from the machinery.
"Mom, when are they going to finish this interstate? They have been working on this since I was in second grade," said Maxine with a frown on her face. Mrs. Hill smiled, "Baby, you might be a senior in high school before it's completed. Road construction sometimes lasts for years." Maxine sighed, put her head back on the seat, closed her eyes and listened to her favorite musical group on the radio for the remainder of the ride.
After arriving at the doctor's office, Maxine sat on the red leather chair next to Dr. Chambers' rack of magazines, and began looking over the latest issues. Hmm, where are the kid's magazines? I don't want to read the Ladies Home Journal, thought Maxine. As soon as she found a copy of Sports Illustrated for Kids with an interesting article named "Girls on The Mound," the receptionist walked into the patient waiting area with a folder in her hand and announced, "Maxine Hill."
"OK Max, that's us," said Mrs. Hill.
Moments later, Maxine sat quietly as Dr. Chambers began his eye exam. "Max, your mom says you have been having some vision problems in class lately."
"Yes, mostly in math class when I'm looking back and forth from the whiteboard to my notebook," answered Maxine.
"Well, your exam shows no serious vision concerns, but your prescription needs to be upgraded for another pair of glasses. This is not unusual for your nearsightedness. We will discuss contacts as you get older. Until then, you will be just fine. However, I would like to see you in six months," explained Dr. Chambers.
Mrs. Hill smiled and thanked Dr. Chambers. Maxine shook Dr. Chambers' hand and walked out to the receptionist's counter while her mom waited on the instructions for the next appointment. A few minutes later they left the doctor's office and headed for B. H. Obama Elementary School.
As they walked to the car, Maxine said, "Mom, I saw some cool, round purple frames in the 20-20 Optical Store window in the mall last week. Can we take my new prescription there this weekend and see if they can measure them for me?"
"We sure can Max. It's a deal," Mrs. Hill gleamed.
( Continued… )
© 2019 All rights reserved. Book excerpt reprinted by permission of the author, Dr. Lynda Mubarak. Do not reproduce, copy or use without the author's written permission. This excerpt is used for promotional purposes only.
Order Your Copy of Maxine Listens by Dr. Lynda Mubarak
Picture Book for ages 6-10. Genre: Children's Literature
Purchase books: https://www.amazon.com/Lynda-Mubarak/e/B01ELLYYGO
The
Stations for Kids Series
is a collection of stories emphasizing early childhood literacy, human compassion, and community service. Each story can be used as a classroom supplement to teach social skills, personal and civic responsibility, and encourage career exploration. The characters are family members who find themselves facing everyday life challenges, but they find ways to address, solve or cope with each situation. Dr. Lynda believes that social skills and community service are an integral part of early childhood education. In addition, these two components are essential in creating a balanced child who understands that he or she is part of a global community. Visit our website today:
https://www.stationsforkids.com
---
The Detective Maxine Hill Series
Now available in Spanish!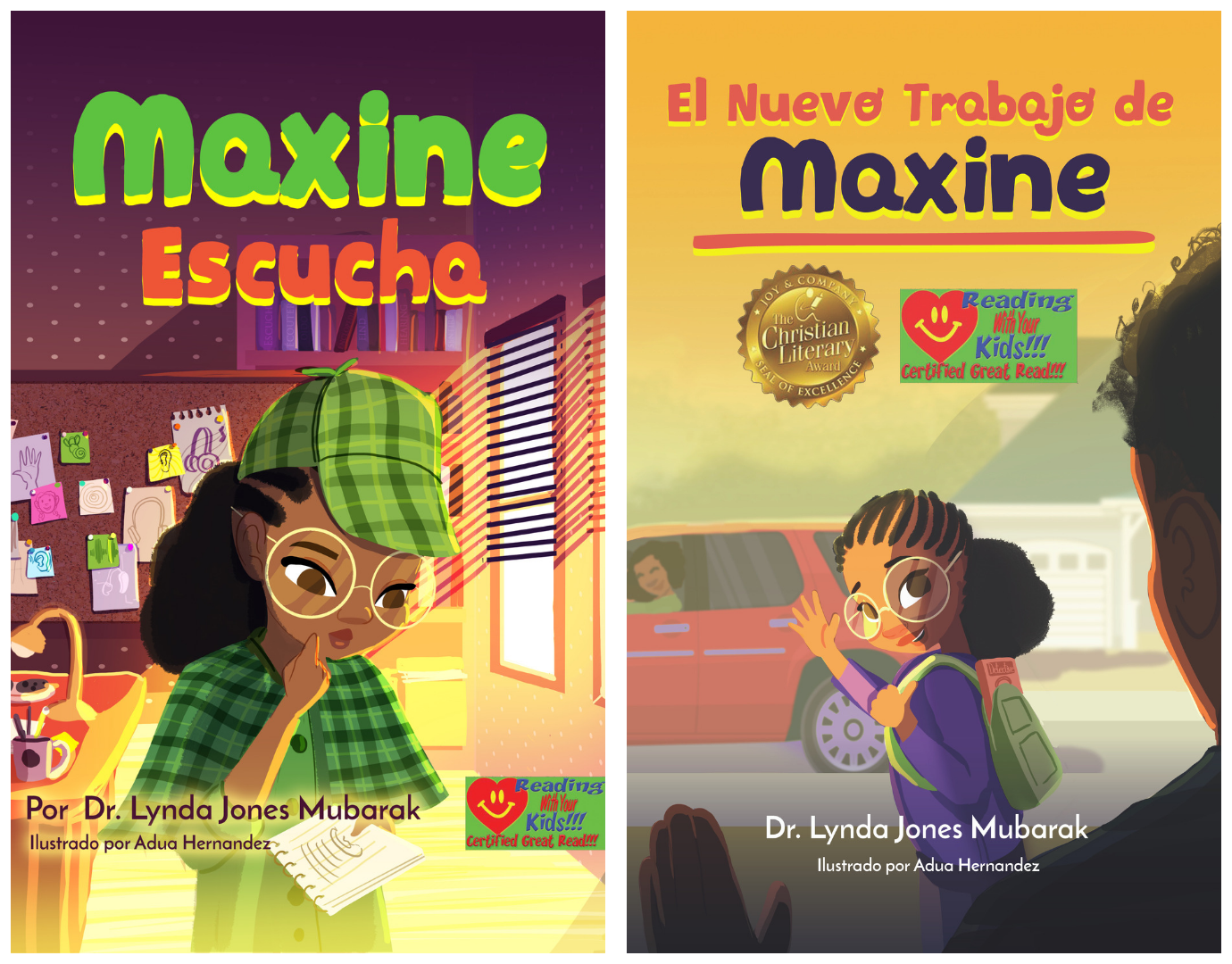 El Trabajo Nuevo de Maxine (Spanish Edition) by Lynda Jones-Mubarak
Maxine's New Job by Dr. Lynda Jones-Mubarak
Shorty y los Sullivans son mis vecinos. Los Sullivans parecen agradables y amistosos, pero tengo algunas dudas acerca de la Sra. Sullivan. Hmmm, creo que la Sra. Sullivan está ocultando algo. ¿Es una agente secreto? ¿Es una espía alienígena? ¿Es un robot? Mi mamá piensa que hago demasiadas preguntas, ella dice que debería convertirme en una científica forense o una detective. ¡Guau!, Es para pensarlo. Ambas carreras resuelven misterios. ¡Genial! ¡Sigue a Maxine Hill a medida que revela el misterio de la Sra. Sullivan, su vecina!
Maxine Escucha (Spanish Edition) by Lynda Jones-Mubarak
Maxine Listens by Dr. Lynda Jones-Mubarak
Maxine Hill continúa con sus técnicas de investigación para revelar misterios and acertijos mientras practica servicio comunitario y la compasión humana en la escuela y en su comunidad. Un diagnóstico médico envía a Maxine en un viaje para conseguir respuestas a una inquietud muy personal. ¿Qué descubrirá Maxine esta vez? ¿Tendrá éxito? Sigue a la joven Maxine Hill a medida que busca revelar y abordar otro reto importante.
La serie Stations for Kids es una colección de historias que enfatizan la alfabetización de la primera infancia, la compasión humana y el servicio comunitario.
Cada historia se puede utilizar como un suplemento en el aula para enseñar habilidades sociales, responsabilidad personal y cívica, y alentar la exploración de carreras.
Los personajes son miembros de la familia que se enfrentan a desafíos de la vida cotidiana, pero encuentran formas de abordar, resolver o enfrentar cada situación.
La Dra. Lynda cree que las habilidades sociales y el servicio a la comunidad son una parte integral de la educación de la primera infancia. Además, estos dos componentes son esenciales para crear un niño equilibrado que entienda que él o ella es parte de una comunidad global.
---
Intimate Conversation with Dr. Lynda Mubarak


Dr. Lynda Mubarak is an award-winning author and a retired special education teacher. She was an avid reader in elementary school and her love for books continued during her career in education. Her Stations for Kids Book Series promotes early childhood literacy, community service, human compassion, and career exploration. Dr. Lynda is a graduate of Texas Christian University, Texas Wesleyan University, and Nova SE University.
BPM Describe yourself in three words.
I am funny, optimistic and creative.
BPM What drove you to publish your first book? How long have you been writing?
I did not write my first book until I retired as a special education teacher and facilitator. I have been writing professionally for three years.
BPM Introduce us to the people in the book, Maxine Listens. Give us some insight into your main speakers.
The main characters in Maxine Listens are 5th grader student Maxine Hill and her parents, the Hills. Maxine is an only child with a pet cat named Amos. She spend hours reading, doing community service with her family at a local food pantry. Maxine enjoys solving mysteries, puzzles, and other family, neighborhood and school events. She is often told by her mom that she asks far too many questions. Her family thinks she may have a future career in law enforcement as a detective or in forensic science as an investigator or researcher. Maxine reads constantly, is president of her school book club, plays Scrabble with her BFF, Amanda Grayson, and often enrolls in courses offered at the local library including American Sign Language and Creative Writing. Mr. and Mrs. Hill are often amazed by Maxine's interest in anything and everything from architecture and engineering to learning Mandarin Chinese.
BPM Share one specific point in your book that resonated with your present situation or journey.
Maxine's mothers tells her, "Max, if you want to learn the truth about a person or a group of people, take some time to learn how they live, work and play." I think so much time is spent analyzing or over-analyzing people or other cultures that we often forget that life experiences are different for all of us and we are all products of the events and backgrounds in our life. Your view of life can transition as you mature and grow. How you feel about a person or situation at 20 may be totally different by the time you reach 35. We all live our lives in phases.
BPM Tell us about you most recent work with the community.
I have a lifetime partnership with the Community Food Bank of Fort Worth, TX. A percentage of each book sold by Stations for Kids is donated to the food bank to assist families in need and displaced workers. I am honored to part of an organization that provides so much for so many!
BPM What was one of the most surprising things you learned in creating your book?
I was surprised by the families that related to my themes in my first and second Maxine books. The story topics are common to all families and Maxine offers some simple solutions to the challenges faced by each family in the stories. The solutions are doable and simple to implement.
BPM Do you ever have days when writing is a struggle?
Writers are often overcome with the term 'writer's block'. What I have discovered as many will affirm, is that 'writer's block' is another term for distractions. Daily distractions keep you from focusing and remaining grounded until your book is completed. Finances, children, job issues, aging parents, ill family members, or personal medical issues can be a deterrent to your book project. It often becomes difficult to stay on course while keeping your purpose on target, and allowing your faith to provide the strength to forge ahead. You must select a time each day or on the weekend to pull away from everyone for a few hours and continue your writing journey. It is essential if you truly want to become an author.
BPM What project are you working on at the present?
I am currently completing Maxine's Hands, Book 3 of the Detective Maxine Hill Series. Maxine continues to learn new concepts and apply her knowledge of community service anywhere it is needed. In progress is a Stations for Kids website which will be completely kid friendly and interactive.
BPM What legacy to you hope to leave future generations of readers with your writing?
I would like to instill a love of reading and writing to the readers of my writing. I want them to know that reading my book or other great literature will allow your mind to flourish, explore and navigate through life and its challenges. In addition, reading will increase your critical thinking skills and provide a way to understand mankind in general. They also need to know that everything you need to know about yourself and life has been recorded in a book somewhere.
BPM What is your preferred method to have readers get in touch with or follow you?
Readers can get in touch with me by email at ljmubarak@gmail.com
Website: http://www.lyndamubarak.com
Twitter: https://twitter.com/stationsforkids
Facebook: https://www.facebook.com/lyndamubarak
Amazon Page: amazon.com/author/lyndamubarak.com
IG: https://www.instagram.com/ljmubarakstationsforkids
---
Maxine's New Job




by Dr. Lynda J. Mubarak




(Book I, Detective Maxine Hill Series)
2018 Christian Literacy Awards Winner: Maxine's New Job
Maxine's New Job won the prestigious "Henri Award" at the 2018 Christian Literacy Awards
for outstanding literacy work in the Children's Books division.

Maxine's New Job by Dr. Lynda J. Mubarak



Maxine Hill is an inquisitive fourth grade student who loves to read, work crossword puzzles, visit her best friend, Amanda Grayson, and play with her cat, Amos. Maxine is also on a quest to find out why her neighbor, Mrs. Sullivan, is acting so weird. Mrs. Sullivan is always outside sitting on the front porch with her two rescue dogs or working in her flower bed.
However, she seems to get very nervous when Maxine talks to her about everything. What is going on with this lady? Is she a robot spy? Is she an alien? Is she working for the CIA?
Follow Maxine Hill as she solves the case of the strange neighbor!


ORDER BOOKS FROM BARNES & NOBLE
https://www.barnesandnoble.com/w/maxines-new-job-lynda-jones-mubarak/1128565433
---
BOOK REVIEWS
We're back in the world of Shorty and the Sullivans, this time across the street with
Maxine Hill, a precocious fourth grader. Maxine
is an adorable girl with big glasses and a big heart. Her family is gentle too and I enjoyed meeting them. The illustrations have a cozy feeling to them as we see into the places in Maxine's world.
The book is definitely on the long side for a picture book. Obviously this isn't unheard of, I simply tend to prefer keeping picture books shorter and saving more complex stories for transitional chapter books, but that's totally a personal preference. I think the story and length does make the book a better fit for older audiences, first or second grade and up. If you could get your third and fourth graders into it, it would be great!
From a social justice standpoint I thought this book really tackled some interesting problems. Maxine and her family support being involved in community and helping out how and when they can. They volunteer at a food pantry once a month and started to do so after Maxine noticed an unhoused man and began asking questions. (Side note, I wish the book had called him unhoused instead of homeless.) I really love that her family is so willing to engage in this way and the way Mubarak has written it, it comes across as genuine and sincere instead of didactic.
It's this ethic of service that leads Maxine to help Mrs. Sullivan, her neighbor across the street, solve a problem. It turns out Mrs Sullivan is functionally illiterate, largely because she struggled so much in school learning to read, never got the help she needed to be successful, and then dropped out of school. I have never seen a picture book that takes on this issue, but it isn't an uncommon one. I know my library system has a program for adults who are illiterate or need more reading instruction and it isn't the only program like that out there by any means. It might not be super realistic that a fourth grader is going to help a woman with learning disabilities to learn to read, but I love books that take a positive stance on children stepping in and stepping up, even if it's not totally plausible. I think it's a representation of sorts. It shows kids they can help and puts faith in them. No need to squash their optimism and willingness to do good. If anything I think it encourages them to stay engaged and find ways they can help even if it doesn't look exactly the way they first think it will.
Maxine's New Job written by Dr. Lynda J. Mubarak and illustrated by Adua Hernandez introduces us to a young girl named Maxine Hill who loves to read, work crossword puzzles, visit her best friend, Amanda Grayson, and play with her cat, Amos. Maxine is a fourth-grade student who is full of curiosity and wants to take up a career of forensic scientist when she grows up. Maxine is concerned by her neighbour Mrs. Sullivan's strange behaviour and is determined to track down the cause. She embarks on a fact-finding mission and finds out that Mrs. Sullivan was dropped out from school when she was in seventh grade and can't read! Fortunately, Maxine with the help of her supportive family takes up a new job of being a tutor to Mrs. Sullivan and teach her how to read.
Maxine's New Job is a nice introduction to what a neighbor is and the role a neighbor should play. Teaching service and helping others can't be done through direct instruction. You can share positive examples of service via stories in great children's books and Dr. Lynda's book does a wonderful job at teaching kindness, service, and helping others. I especially love the sense of community that is prominent throughout the book. It introduces kids to what a community service is and the importance of serving people in need.
It's a good lesson for our children to learn, that although everyone has deficiencies in some area, there is always something we can do to help if we are looking for opportunities and making ourselves available. I love the line said by Maxine's mom "When a person needs help, you do what you can for them with what you have or what you know". It's a sweet story about open hospitality and generosity to those around us.
What I particularly liked about this book is that it features a young black girl as an adorable protagonist of the story. We know that all children love seeing faces like theirs within the pages of their picture books, but it can be hard to find books starring kids of color. Dr. Lynda's book not only gives children of color an opportunity to see themselves in stories but also helps broaden the perspective of all children by fostering children's sense of empathy and connection with characters who might look different from themselves.
The illustrations are so beautiful, and the plot is captivating. You'll love this friendly little girl who has quite a fun and busy school life but takes the time to check on her neighbour and help her by teaching how to read. Highly recommended to kids of all ages!
---
BOOK EXCERPT: Maxine's New Job
It was a warm, bright Sunday morning and a special time for the Hills. Once a month on Sundays, the Hill Family spent four hours at the Helping Hands Food Pantry. Max had asked her parents several important questions after watching a homeless family standing on a corner last year. That's when Mr. and Mrs. Hill decided that Max needed to learn how community agencies serve people in need. The Hills contacted the pantry and made arrangements for the family to volunteer one day per month. Maxine enjoyed the community service hours. Her job was filling each family meal box with a can of green beans and cereal. Mr. and Mrs. Hill worked in the pantry kitchen. "Max, when a person needs help, you do what you can for them with what you have or what you know. Never forget that," said Mrs. Hill. "OK mom, I won't forget," said Maxine.
The Hills completed their four volunteer hours and shook hands with the families before leaving. Max thought, Wow, it feels great to help someone who is having a difficult time. Mom says we should continue to do this once each month and I think she's right! The Hills stopped at an ice cream shop for a treat and returned home so that Max could prepare for the first day of school.
The first day at B. H. Obama Elementary School was awesome! Maxine listened as the new principal welcomed the students and the parents. She was happy to see her classmates from the past year and she saw some new faces. The lunchroom had been repainted and it looked completely different. Maxine also discovered that she would be in the new wing of the school because the student enrollment had increased. Wow, everything was new in this area from the desks to the lockers! And to make it even better, she didn't have to share a locker this year.
At the end of the day, she had shared some summer memories and made new friends. Maxine also had several school papers to take home. One of the papers was a flier about open house in a few days. When the evening school bus
stopped on the corner, Maxine and four neighborhood kids hopped off and began walking home. As Maxine walked, she smiled, looked down at her new sneakers, and thought about all the new changes at school. She was trying to decide whether she wanted to join the chess, robotics or Scrabble club. When she looked up, she was facing her house and Mrs. Sullivan was watering the flowers in her little red well next door. Hmm, the Sullivans may want to come to my school's open house, so I'll give the flier to Mrs. Sullivan, thought Maxine.
She ran over to Mrs. Sullivan, handed her the flier and began discussing the first day of school. Maxine talked very hurriedly about the first day of school and said good-bye quickly. She knew it was time to get home and take Amos outside. Mrs. Sullivan listened and nodded, but had a concerned look on her face as Maxine walked away.
Maxine thought about asking Mrs. Sullivan if she was feeling alright, but she thought about what her mom said last week, "Max, please try to be courteous. You ask so many questions. Maybe you should be a detective!" She thought for a minute, walked back into the house, ran up the stairs and called Amos. It was time for his afternoon walk and his favorite doggie treat. I'll talk with Mrs. Sullivan later thought Maxine.
Amos ran out of the bedroom, rubbed his head against Maxine's leg and ran downstairs to the front door. He was ready to take the afternoon walk around the block. After walking with Amos and waving at the neighbors, Maxine and Amos slowly walked back to the house. Mrs. Hill was busy preparing dinner. Today was Monday, so it was going to be chicken tacos, Maxine's favorite. Maxine looked at the Sullivan house from the kitchen window and inquired, "Mom, have you ever noticed anything strange about Mrs. Sullivan?"
"Max, what may seem strange or unusual to you could be normal behavior for another person." responded Mrs. Hill. "I know that Mom, but she seemed uncomfortable when I spoke to her about my first day at school. She looked very uneasy when I gave her the announcement about the school's open house", stated Maxine. "Maybe she had something on her mind Max. People sometimes look at you when you are talking, but they are thinking about other important things.
We all do it from time to time", explained Mrs. Hill. I know Mom is right, thought Maxine but no one should look that weird if I'm discussing school or a piece of paper.
Maxine sat down at the kitchen table and enjoyed the tacos and ice tea with Mrs. Hill. Mr. Hill always worked late on Mondays so Maxine and Mrs. Hill had their special time to talk about all the new school developments. Amos was curled up in a furry ball under her chair. The first day of school had been great and she ended the day with her favorite meal!
Before Maxine went to bed she thought about Ms. Parker's remark after math class ended today. "Max, if you are still thinking about becoming a detective, you should also consider a career as a forensic scientist. Both jobs require an interest in science, working with many pieces of information called clues, and solving mysteries", explained Ms. Parker.
I think I need to go to the library tomorrow at school or the city library on Saturday morning to see what this forensic thing is all about! thought Maxine.
The next day Maxine decided to finish her lunch early and ask the lunch monitor for a pass to go to the school library. When Maxine entered the library, she walked over to a student computer and began her search for detectives and forensic scientists. Maxine was surprised to learn that uncovering mysteries was one of the oldest sciences in the world. Wow! So solving mysteries involves reviewing pieces of evidence or clues and building a story or opinion around the material piece by piece. This sounds like fun!
© 2018 All rights reserved. Book excerpt reprinted by permission of the author, Dr. Lynda Mubarak. Do not reproduce, copy or use without the author's written permission. This excerpt is used for promotional purposes only.
Dr. Lynda J. Mubarak is a retired special education teacher, facilitator, and adult ESL adjunct who read constantly as a child. Dr. Lynda is an advocate for early literacy and life long learning. She loves to create stories for young children with an emphasis on community service, global empathy, and human compassion. She is a graduate of Texas Christian University, Texas Wesleyan University, Nova Southeastern University and she is an Army veteran.
Dr. Lynda is a co-host of The Author's Lounge Radio Show at the Fish Bowl Radio Network. She enjoys crossword puzzles, live theater, and traveling with her husband, Kairi, and their rescue dogs, Ebony Joyce and Shorty Junior. Dr. Lynda has established a life-long partnership with the Community Food Bank of Fort Worth, TX. A percentage of all book sales will be donated to the CFB to assist families in need.
Visit our website today
:
https://www.stationsforkids.com
HOW TO JOIN THE SEDUCING THE PEN BOOK TOUR
The Greatest Gift Is Your Support!
Please consider joining the EDC Creations team by becoming a blog tour host, radio interviewer, chat host or by purchasing Books by Dr. Lynda J. Mubarak featured here and giving them to children in your family or network. We welcome the community into the program and will support any of our partners with promotion and book gifts in return. Spread the word...we want to bring more entertainment, education and enlightenment to the community! Download bookcover image and author photo from this page.

JOIN THE SEDUCING THE PEN BOOK TOUR: https://www.smore.com/xhn65-stations-for-kids
1. Please share this flyer links on your social media pages. Each tour page has all of the details about the book and the author. Take what you need to add to your blog, social media walls or website. Here is the tour link: https://www.smore.com/xhn65-stations-for-kids
2. Let Ella D. Curry know that you are joining the tour by leaving your website or blog address in the comments section at the end of the page. You can also email her at: edc_dg@yahoo.com to claim your subscription gift box or book gift package.

Maxine Listens by Lynda Jones Mubarak
Maxine's New Job by Dr. Lynda J. Mubarak
Shorty and The Sullivans by Lynda Jones Mubarak
Carver Park by Lynda Jones Mubarak
All STATIONS FOR KIDS books are available at Amazon in Kindle ebook, hardcover and paperback: http://amzn.to/2FiomT8
All STATIONS FOR KIDS books are available at Barnes & Noble in Nook Book, hardcover and paperback: http://bit.ly/2oW6536
Purchase STATIONS: Changing Your Life – Changing Your Career by Dr. Lynda Mubarak
https://www.amazon.com/STATIONS-Changing-Your-Life-Career/dp/1478766670
---
Stations for Kids Founded by Dr. Lynda J. Mubarak




STATIONS FOR KIDS is dedicated to early literacy and community service. The best way to ensure your child's personal and career success is to begin the learning process as soon as possible. Academic success is always necessary, but your child also needs to see how he or she fits into the world community. A combination of community service and applicable educational concepts will give your child a balanced view of the world. Visit our website today: https://www.stationsforkids.com



Follow and Like Stations for Kids on Facebook: https://www.facebook.com/lyndamubarak


JOIN THE SEDUCING THE PEN BOOK TOUR: https://www.smore.com/xhn65-stations-for-kids
All STATIONS FOR KIDS books are available at Amazon in Kindle ebook, hardcover and paperback:
http://amzn.to/2FiomT8

All STATIONS FOR KIDS books are available at Barnes & Noble in Nook Book, hardcover and paperback: http://bit.ly/2oW6536
---
Pearl Page: Audio Postcard for Bookclubs
$79.00 Per Campaign, pay here.

Thank you for listening to this fantastic book preview! This audio-postcard presentation was created by Ella Curry of EDC Creations Creations Media Group. We offer the best in book publishing publicity!Visit the main EDC Creations website today to explore the many services we offer small business owners, event planners, authors and publishers at: http://www.edc-creations.com/publicity.htm We have several packages that will take your products to the top!

Create a Pearl Page Like This One in Minutes! Got a ebook or a new printed book...let us tell the world it's available! Reserve your own personal audio book preview page today and your Pearl Page will be ready for syndication in 3-5 days! Let us share your message with our database for the next 3 months. The bookcover (with link to bookseller) is showcased on Black Pearls Magazine front page sidebar for 3 months too.


Turn your speakers on and click the links. View samples of our various types Pearl Pages:

PP 1, PP 2, PP 3, PP 4 and PP 5

Pearl Pages are emailed to more than 165,000 readers of the EDC Creations newsletter, played on BAN Radio Show 3 times in 3 months and promoted via our mobile bookclub. View here. What a way to share your audio-visual introduction with readers! Fee: $79.00 for complete webpage and audio. Make all payments at the EDC Creations Payment Center, go here today. We look forward to sharing your information with our network! Ella will email instructions within 24-48 hours.