Christian Authors on Tour (CAOT)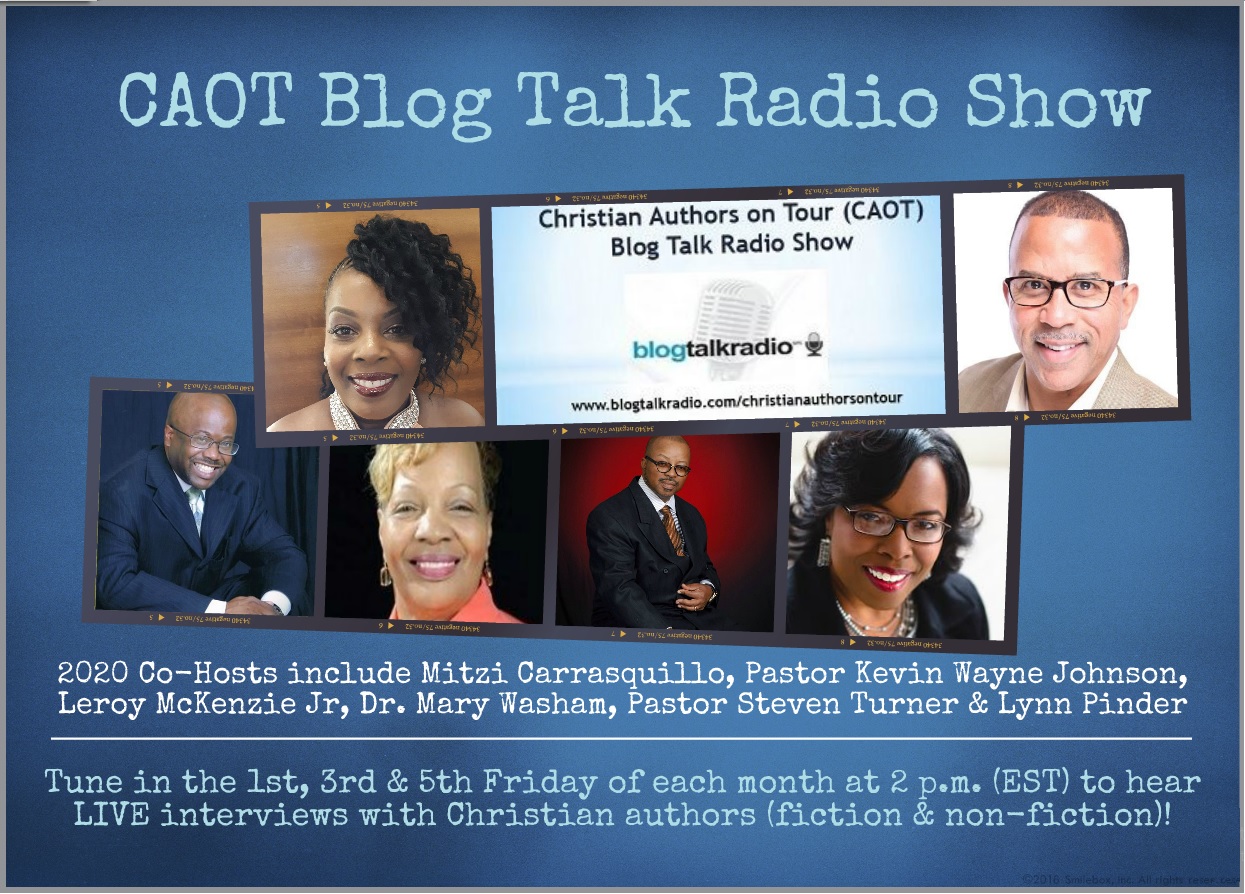 On FIRE for God and committed to using writing as tool for Christian ministry!

Lynn Pinder is an author, educator and entrepreneur. Lynn has written and self-published several books; she has also coordinated several anthology projects. When she's not helping Christian authors promote their books via virtual and in-person events, blog talk radio & Internet TV shows hosted by Christian Authors on Tour (CAOT) - a Christian author network she founded in 2008 - Lynn is teaching ABE/GED classes to adult learners.
BPM: If you had to describe your organization in three words, what would they be?
Lynn Pinder: books, readers and author connections.
BPM: Introduce us to your most recent project or program.
Lynn Pinder: The 2021 Shining God's Light in a Dark World: Christian Authors on Tour (CAOT) multi-state, Christian book tour will include three in-person literary events and three virtual literary events. The first stop of this Christian book tour is a virtual event scheduled March 27, 2021 featuring the Ladies of Christian Authors on Tour (CAOT). Carolyn L. Austin, the author of "Prayers of My Mother" is one of the featured authors at this first CAOT tour stop in 2021.
BPM: Do you set out to educate or inspire, entertain or illuminate a particular subject?
Lynn Pinder: All of the above! It is my hope that the various events (in-person & virtual) hosted by Christian Authors on Tour (CAOT) help provide a better understanding of who God is and how HE works through people and situations.
BPM: Do you consider authors as role models?
Lynn Pinder: I might not consider authors as role models, but lots of people do. Authors, especially Christian authors, have a powerful gift in their ability to form and shape words into books that educate, inspire, entertain and illuminate. Christian authors have the wonderful opportunity to use their writing gifts in a way to sharpen people's understanding of God's Word.
BPM: Our life experiences, challenges and success help define who we are on many levels. At what point in your career did you discover your real worth and own it?
Lynn Pinder: In 2011, had been running CAOT for three years and in that short time I was exhausted, tired and unsure of the value and the purpose of CAOT. I made some personal decisions that not only impacted my life but impacted those authors who were depending on CAOT to help them market/promote their books. Some years later, I tried to quit. I tried to close CAOT. I tried to give CAOT away. God wouldn't allow it. He kept planting seeds and opening doors - making it possible for CAOT to grow, mature and blossom. Through the blessing of networking and mentorship, I realized CAOT was so much bigger than me. God showed me how HE would fit the pieces together in spite of my missteps or anyone else's misgivings. It was at that point, I stopped trying to give CAOT away or retire it and I started watering the seeds God gave me to help CAOT thrive.
BPM: Can you share some stories about people you work with in the community?
Lynn Pinder: Since 2008, I have had the pleasure of working with some AMAZING men and women authors. Quite a few have gone home to glory. Sharon Moore Stenhouse, Bishop Bertha M. Greene, James Gaskins, Dr. Steve Haymon, Dwayne Clemmons and Anna Renault are just a few of the writing warriors I have been blessed to work with through Christian Authors on Tour (CAOT). They taught me so much, and I will always be grateful for their support.
BPM: How can our readers reach you online?
Visit our website at www.christianauthorsontour.com to see sponsorship opportunities, videos from events and more.
Connect with Us Today!
CAOT Telephone: 800-929-1418
Internet TV: http://www.caottv.com
Twitter: https://twitter.com/CAOTauthors
Facebook: https://www.facebook.com/groups/christianauthorsontour
CAOT on YouTube: https://www.youtube.com/watch?v=YLmkOXDsh9Y
Blog Talk Radio Show: http://www.blogtalkradio.com/christianauthorsntour
---
Pearl Page: Audio Postcard for Bookclubs
$79.00 Per Campaign, pay here.

Thank you for listening to this fantastic book preview! This audio-postcard presentation was created by Ella Curry of EDC Creations Creations Media Group. We offer the best in book publishing publicity! Visit the main EDC Creations website today to explore the many services we offer small business owners, event planners, authors and publishers at: http://www.edc-creations.com. We have several packages that will take your products to the top!

Create a Pearl Page Like This One in Minutes! Got a ebook or a new printed book...let us tell the world it's available! Reserve your own personal audio book preview page today and your Pearl Page will be ready for syndication in 3-5 days! Let us share your message with our database for the next 3 months.The bookcover (with link to bookseller) is showcased on Black Pearls Magazine front page sidebar for 3 months too.


Turn your speakers on and click the links. View samples of our various types Pearl Pages:

PP 1, PP 2, PP 3, PP 4 and PP 5

Pearl Pages are emailed to more than 165,000 readers of the EDC Creations newsletter, played on BAN Radio Show 3 times in 3 months and promoted via our mobile bookclub. View here. What a way to share your audio-visual introduction with readers! Fee: $79.00 for complete webpage and audio. Make all payments at the EDC Creations Payment Center, go here today. We look forward to sharing your information with our network! Ella will email instructions within 24-48 hours.