Unfortunately Francine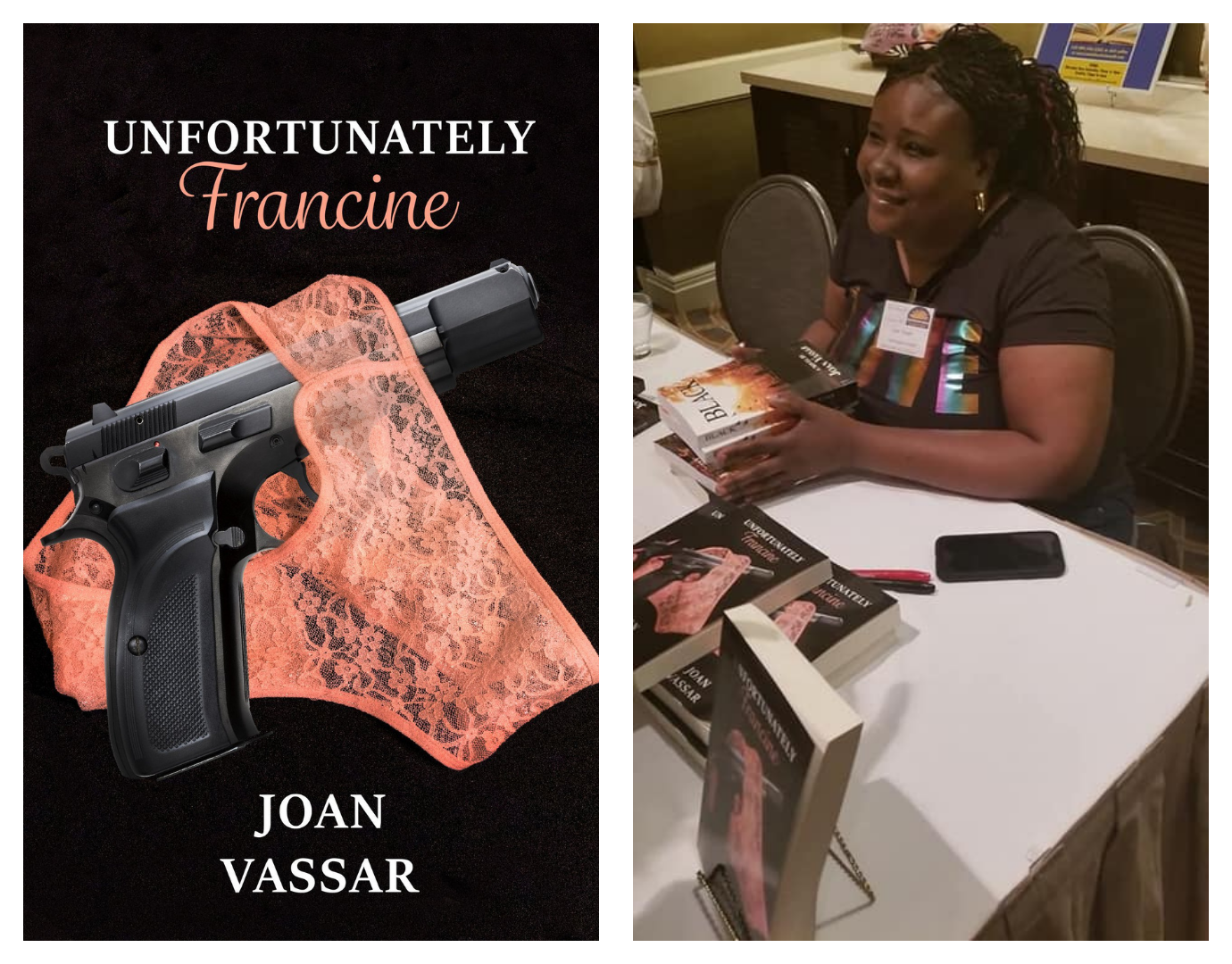 (Unfortunate Series Book 1) by Joan Vassar
Georgia, 1995–A gentle push from her sister causes Francine Adams to agree to one date with the handsome, Jalal Dorsey. When his ex-girlfriend makes an appearance, a perfect evening takes a turn for the worse. Blinded by humiliation and desperate to put distance between herself and the drama, Francine flees the upscale eatery. Unfamiliar with Atlanta, she wanders down a dark side street and encounters a series of unfortunate events.
Troy Bryant has spent seven years in jail for a crime he didn't commit. Upon his release, he realizes the man he was before prison is gone. Now, he's everything he was wrongfully accused of. After witnessing a young woman running from a restaurant in the heart of Atlanta, Troy follows her hasty retreat down an unlit side street, forever changing the course of both their lives.
Troy decides to keep her–no matter the cost, and Francine is forced to need the man who stole her from her life. Two souls collide, and a dark romance begins to bloom. Unfortunately Francine spins an erotic tale of anger, love and acceptance.
Excerpts from Unfortunately Francine
"Truce is for the man who approaches me from the front not from the back." ~Troy
"All races commit crimes against their own. People perpetrate corruption where they are most comfortable. Statistically, black on black crime is no higher than any other race. It's prejudice that keeps a slanted black experience in the forefront of the nightly news."
"Troy almost laughed out loud as he came to understand that he would have to submit to her–to get her to submit to him."
"Unfortunately, we live in a society that is unforgiving of the poor and people of color. And often times as black folks, we fall under both categories."
Reviewed by Ebony Eyecu Evans
Was he a good man who did bad things or was he a bad man who did good things?
Well, let me start by saying....Whatever Troy Bryant is or isn't, he's FOR SURE THE MOST INTENSELY ANGRY, CONTROLLING, EROTIC AND SEXIEST VILLAIN I've ever encountered. I mean…NEVER HAVE I EVER read such a dark and deliciously disturbing romance that's kept me riding a wave of conflicting emotions.
With captivating character development and meticulous detail, this multilayered twisted plot is E-V-E-R-Y-T-H-I-N-G!
Bravo!!! Joan Vassar OUT DID HERSELF with "Unfortunately Francine!" Can't wait to see what comes next! --Ebony, EyeCU Reading Approved & Highly Recommended
---
Intimate Conversation with Joan Vassar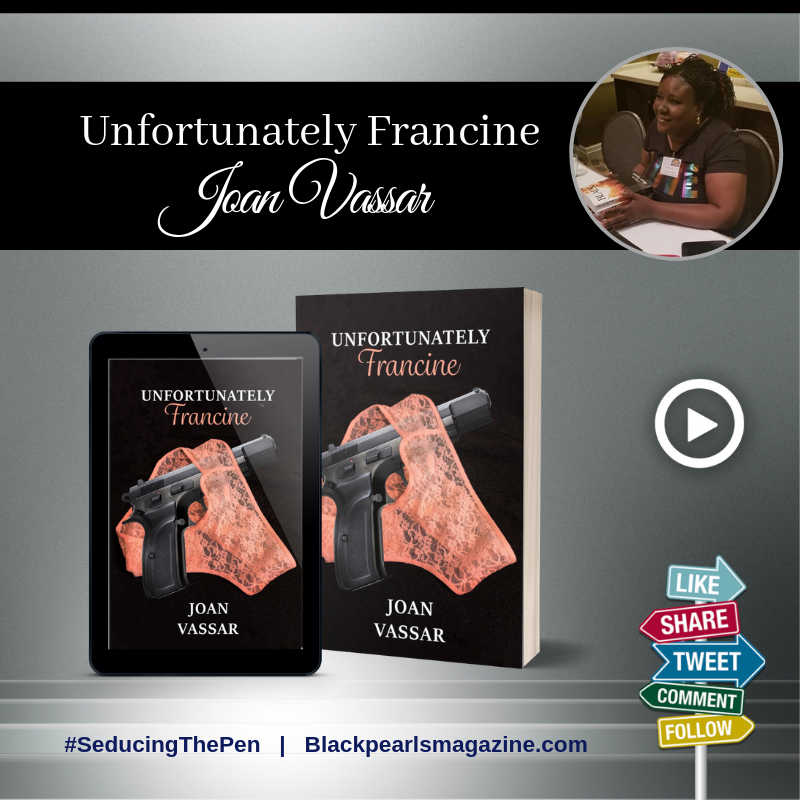 New York native, Joan Vassar is an avid reader and storyteller. Joan graduated from the High School of Graphic Communication Arts in NYC which heightened interest in journalism. She has always had the in-depth ability to astutely relate, interpret and bring words to life. Joan works as a software analyst by day, but her true passion is storytelling. She enjoys writing narratives that bring to life the African American experience both past and present.
Joan is the author of Introduction to Love and Self, The Black Series and her latest novel Unfortunately Francine.
"I love to hear from my readers. When a man tells me that my character made him feel a heightened sense of pride, or a woman shares with me that she enjoyed the romance rarely seen between African Americans in literature, I know I've done my characters justice."
Joan currently resides in Georgia and is happily weaving great tales.
BPM: How did you choose the genre you write in?
I choose my genre based my love for romance, black love and black family.
BPM: Tell us about your most recent work. Available on Nook and Kindle?
Unfortunately Francine is a dark romance based on the black experience. Available on Kindle.
BPM: Give us some insight into your main characters. What makes each one so special?
Troy is the anti-hero; in this novel I explore the villain. What makes Troy special is his need to right the wrongs of the world, while being an unapologetic villain.
BPM: What was your hardest scene to write, the opening or the close?
The ending scenes were difficult, because I want to keep readers hooked.
BPM: Do you write multiple books for a series?
I do write multiple books in a series. I am currently working on book 4 in the Black Series. I have also started a new series called the Unfortunate Series.
BPM: Do you try to deliver to readers what they want or let the characters guide your writing?
I try to do both, but mainly I try not to be predictable.
BPM: Is there a certain type of scene that's harder for you to write than others?
Erotic scenes can be very difficult.
BPM: Have you written any other books that are not published?
I have two novels written that are not published.
BPM: What projects are you working on at the present?
I'm working on book 4 in the Black Series.
BPM: Share all of your social media links.
---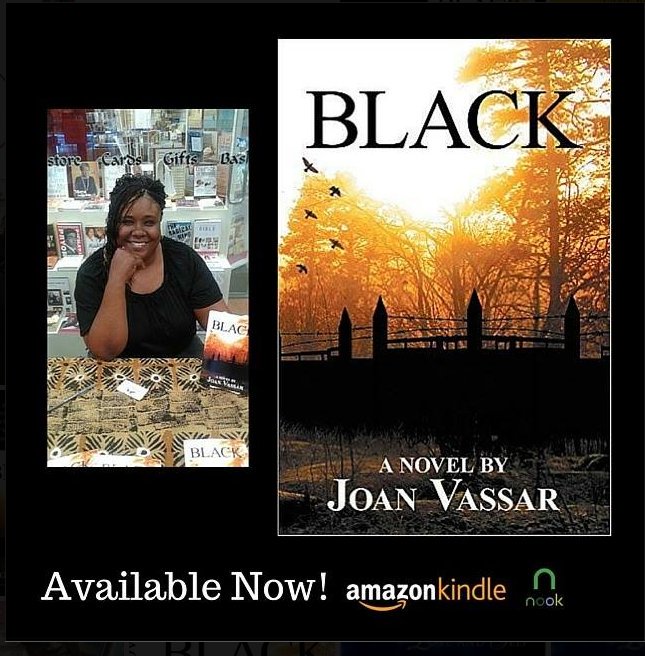 The Black Series (3 Book Series)
The main character, BLACK, is the fictional son of Nat Turner. Nat Turner (October, 1800 – November, 1831) was an enslaved African American who led a rebellion of slaves and free blacks in Southampton County, Virginia. Nat Turner is widely regarded as one of the most complex figures in American history and American literature.
Black shares the appealing tale of a passionate love between a man and a woman bound together to change their destiny.
Elbert: The Uncaged Mind is a passionate story of love and healing despite the ugly backdrop of slavery.
Emancipating James reveals the complicated facets of the human soul exposed against the backdrops of Civil War, slavery, and romance.
Join the blog tour and help spread the word about The Black Series by Joan Vassar
Joan Vassar is now an Author on BookBub: https://www.bookbub.com/authors/joan-vassar
---
Give the Gift of Knowledge
Please read this Pearl Page and explore the linked material. After you read the news, share it with your social media friends. Every share opens the door for more readers to support the authors featured today. Thank you for being a part of our family! We appreciate you and all that you do for our community of writers, poets and bloggers.
Read more about authors on the Seducing the Pen Tour at: https://www.smore.com/9yzf-seducing-the-pen-book-tour.
If you would like to host this author on tour, email Ella D. Curry and request the information at: edc_dg@yahoo.com. Use the subject line: Hosting the STP Book Tour Online.
Ella D. Curry, President of EDC Creations
President
Crown Holders Transmedia Group
Black Pearls Magazine Online-Founder
Black Authors Network Radio-Founder
Small Business Coach | Digital Marketing Strategist | Brand Developer
---
Pearl Page: Audio Postcard for Bookclubs
$79.00 Per Campaign, pay here.

Thank you for listening to this fantastic book preview! This audio-postcard presentation was created by Ella Curry of EDC Creations Creations Media Group. We offer the best in book publishing publicity!Visit the main EDC Creations website today to explore the many services we offer small business owners, event planners, authors and publishers at: http://www.edc-creations.com/publicity.htm We have several packages that will take your products to the top!

Create a Pearl Page Like This One in Minutes! Got a ebook or a new printed book...let us tell the world it's available! Reserve your own personal audio book preview page today and your Pearl Page will be ready for syndication in 3-5 days! Let us share your message with our database for the next 3 months. The bookcover (with link to bookseller) is showcased on Black Pearls Magazine front page sidebar for 3 months too.


Turn your speakers on and click the links. View samples of our various types Pearl Pages:

PP 1, PP 2, PP 3, PP 4 and PP 5

Pearl Pages are emailed to more than 165,000 readers of the EDC Creations newsletter, played on BAN Radio Show 3 times in 3 months and promoted via our mobile bookclub. View here. What a way to share your audio-visual introduction with readers! Fee: $79.00 for complete webpage and audio. Make all payments at the EDC Creations Payment Center, go here today. We look forward to sharing your information with our network! Ella will email instructions within 24-48 hours.