Miami Beat: The Secret Society
by Frederica Burden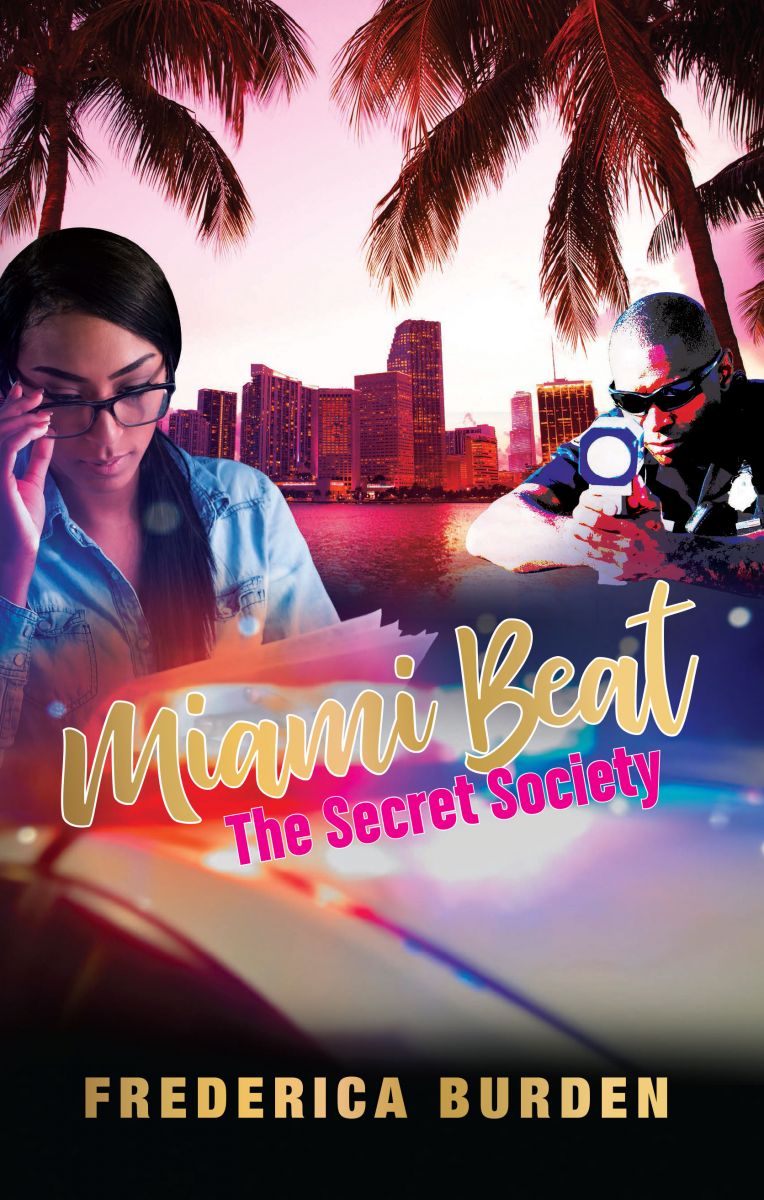 Welcome to Miami! When the sun-kissed beaches and clear blue skies fade into the darkness things really heat up. Miami nights give way to tantalizing temptations that can excite and coerce the darkness out of even the best of us. Sidney is learning this the hard way.
A young, vibrant woman, Sidney is on a mission to pursue her dreams. Unbeknownst to everyone else, Sidney also has a goal that she will stop at nothing to see through.
Losing her father to police brutality at a very young age became the catalyst in Sidney's life, setting her family on a spiral that she desperately tries to end.
Once an Explorer in the police department, she learned a great deal about law enforcement, which she intends to use to bring her father's killers to justice. The only thing standing in her way is her heart. There are two love interests in Sidney's life and she's forced to choose.
Two is company...
Major Marcus Mystic is her former boss and her current love interest. Since the day she met him, she has been fixated on the handsome, intelligent, virile man. A complex man with an even more complicated home life, Mystic has secrets that could get them both killed. Will Sidney be the one to save him or will their love lead to destruction?
Three is a crowd…
Officer Arturo Garcia is her former coworker and mentor. A sexy police officer with a rough edge and muscular body, Garcia has had Sidney's attention for years. There's no denying the red-hot attraction between the two. There's also no denying the secrets that threaten to explode in a fiery storm engulfing them all in flames. Everyone won't make it out alive.
Purchase Miami Beat: The Secret Society by Frederica Burden
https://www.amazon.com/Miami-Beat-Society-Frederica-Burden/dp/198576282X
---
Read an Excerpt from Miami Beat: The Secret Society


---
Miami Beat II: Dilemmas
by Frederica Burden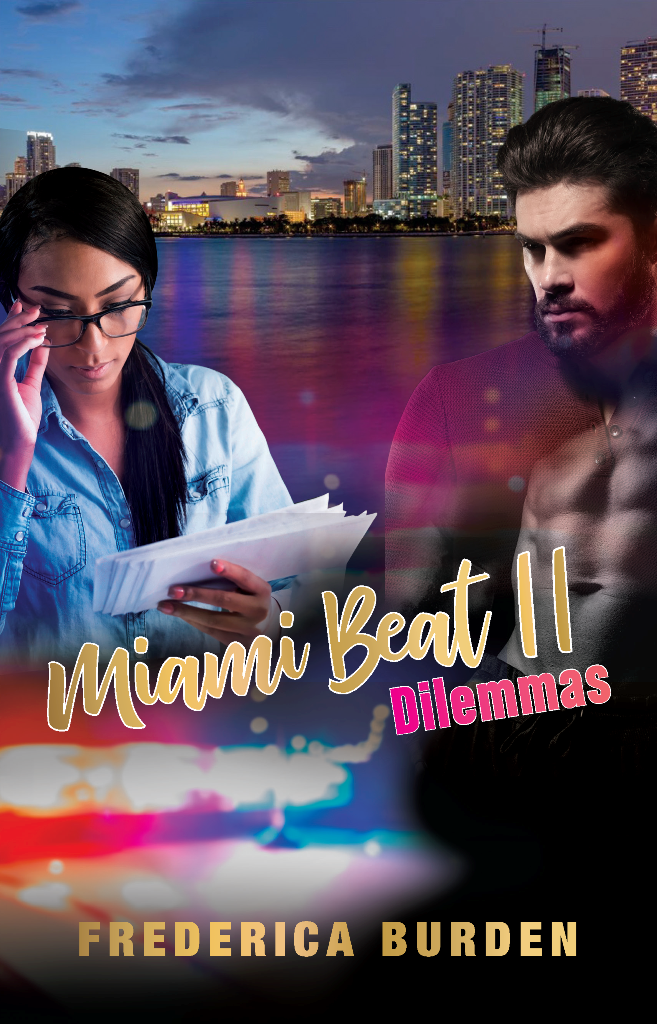 The warm, salty, sea air of Miami blows in change for everyone that Sidney holds dear to her heart. After years of hard work and dedication, Sidney Stevens' dreams have finally manifested to reality. The Academy extended an offer of a lifetime, and she is prepared to invest everything she has into her future, everything EXCEPT her heart.

Sidney's heart belongs to one man, Major Marcus Mystic.
Major Mystic has demons of his own to put to rest. His wife Vondra is on a misguided pursuit of the love she once had with her husband. She will stop at nothing to get her husband and their relationship back to how it was, and she is willing to kill anyone who stands in the way. With his wife on the hunt for blood, Mystic faces dilemmas of his own. Mystic is forced to choose between his deranged wife, Sidney, and the promotion that he so desperately covets. Afraid to lose it all, he can't imagine selecting just one.

Which will Mystic choose?
As long as Vondra is alive, Sidney's life is in danger, and everyone she loves is at risk. Luckily, Sidney has her closest friend to protect her, but unbeknownst to her, he has dilemmas of his own to conquer.
After a night of passion that he can barely recall, Spencer has found himself on the wrong side of the law. Spencer only has Artie Garcia in his corner, and he's petrified that Artie's affiliation with the Department could shake his resolve.

Will Spencer trust his lover with his life?
The characters from Miami Beat: The Secret Society have returned with drama so hot it will have you sweating. As the body count increases, everyone is left wondering, who will be next?
Purchase Miami Beat II: Dilemmas by Frederica Burden
Fiction » Psychological Thriller » Erotic Suspense » Crime Thriller
Books can be found on Amazon and Barnes&Noble. Available in Paperback and Kindle Unlimited eBook format.
---


Chapter 7: Miami Beat II: Dilemmas
Listen to a reading from Dilemmas
Spencer drove to Artie's house with a one-track mind. He didn't realize that someone was following closely behind. When he parked in the driveway and exited his car, Steven drove by the house making a note of the address. Oblivious to Steven's presence Spencer knocked on Artie's door and held his breath waiting for him to open the door. He needed to be in Artie's arms.
Spencer nearly collapsed when Officer Arturo Garcia wrapped his muscular arms around him. Arturo, or Artie as Spencer liked to refer to him, was a handsome man with the complexion of butterscotch and the body of an Adonis. Artie was also Spencer's lover and protector. He never wavered in his duties, either. Spencer knew that Artie would have done anything to make sure that he was safe. Artie was heading to meet Spencer when he heard the fear in his voice over the phone. He had his keys in his hands and was prepared to drive to wherever Spencer was to save him.
Artie and Spencer became friends several years prior when Spencer offered him personal training services at the local gym. The attraction between the two was immediate and intense. Spencer was a bronzed, physically fit, hazel eyed dream-come-true. He used the gym that he managed as his proverbial hunting ground for men, not because he wanted to, but, "spontaneity" is Spencer's middle name, and he had no trouble drawing men to him.
Artie tried to play it cool when they first met, but Spencer could tell by the way Artie looked at him that he wanted him. His hazel eyes burned with fire. A fire that Artie was ready and willing to stoke. What they initially thought would be a hot one night stand grew into something more profound. Although Artie loved beautiful women, Spencer held a special place in his heart.
Spencer helped Artie grow. He taught Artie to let go of his inhibitions and be free. Artie felt like he owed Spencer for helping him accept himself for who he was, a bi-sexual man. Artie promised Spencer that he would take care of him and he meant it. Hearing the fear in Spencer's voice over the phone Artie instinctively grabbed his gun and keys. He was going to drive to wherever Spencer was to rescue him. Instead, Spencer instructed Artie to wait, he was on his way to his house.
Artie was on pins and needles when Spencer arrived. Spencer tried to maintain his composure as Artie closed his front door and allowed his friend to have a seat. He didn't want Artie's neighbors witnessing his mental breakdown.
"Are you alright?" Artie asked, his face showing fear and concern as he surveyed Spencer's wrinkled clothing. "Is that blood?" Artie questioned as he scanned Spencer for wounds. "What happened to you?" he asked, staring into Spencer's eyes.
"I don't know what happened," Spencer offered absently shaking his head in confusion. "One minute we were partying… and the next…" he gasped trying to fight back the tears as images of Linda's bloody body flooded his mind.
Artie embraced Spencer, rocking back and forth as he tried to console his friend. Spencer cried like a baby on Artie's shoulder. Artie tried to get more information out of Spencer, but Spencer refused to say anything. Artie planted a reassuring kiss on Spencer's forehead and whispered, "I'm right here with you. Get it all out," he affirmed. He held Spencer in his arms and let him cry, knowing that whatever the situation was, he would be there for Spencer.
"I think I killed someone," Spencer finally blurted out as Artie's mouth dropped in surprise.
( Continued… )
About the Author
Frederica Paremore Burden graduated from Barry University (Miami Shores, Florida) with a Bachelors Degree in Nursing, and a Masters Degree in Criminal Justice from St. Thomas University (Miami Gardens, Florida).
Frederica worked for 28 years with the City of Miami Police Department, in various units throughout the department, including undercover details. Frederica was also a calendar model for the Police Department. She has three (3) sons and currently works as an adjunct professor at Miami Dade College School of Justice.
Her debut novel Miami Beat: The Secret Society was published spring 2018. Miami Beat II: Dilemmas is her follow-up erotic suspense novel. You can learn more about upcoming releases in the series at: http://www.FredericaBurden.com
---
Intimate Conversation with Frederica P. Burden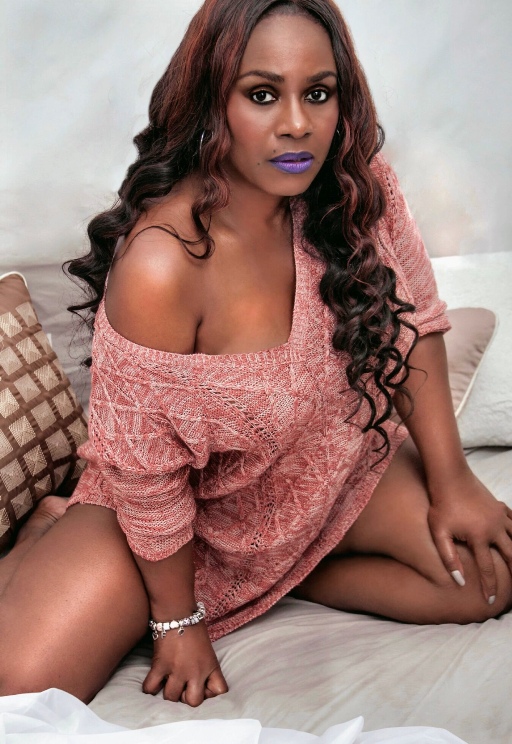 Frederica Paremore Burden graduated from Barry University (Miami Shores, Florida) with a Bachelors Degree in Nursing, and a Masters Degree in Criminal Justice from St. Thomas University (Miami Gardens, Florida).
She worked for 28 years with the City of Miami Police Department, in various units throughout the department, including undercover details. Frederica was also a calendar model for the Police Department. She has three (3) sons and currently works as an adjunct professor at Miami Dade College School of Justice.
Her debut novel Miami Beat: The Secret Society was published spring 2018. Miami Beat II: Dilemmas is her follow-up erotic suspense novel. You can learn more about upcoming releases in the series at: www.FredericaBurden.com


BPM: It is such a pleasure to have you join us to discuss Miami Beat II: Dilemmas. Describe yourself in three words.
FPB: The three words that describe me are: Funny, Observant and Picky.
BPM: What enticed you to publish your first, sexy, legal thriller series? How long have you been writing?
FPB: I was ready to release the characters from inside of my head, so I decided to put pen to paper and write what was in my head. book two is hotter, and book three will be the hottest! I have been writing books for almost a year now. Yes, I'm a newbie.
BPM: Introduce us to the people in Miami Beat II: Dilemmas!
FPB: Miami Beat II: Dilemmas is out of control with suspense, drama, and so many dilemmas. My cast of characters remains the same; some have become deeper than others.
Sidney Stevens is moving forward with her plans. Spencer MacIntyre is finding out that life is not all playing while you work!
Major Marcus Mystic has reached a major goal and then some. Vondra Mystic is totally out of control and will not stop until she gets what she wants, no matter who stands in her way. Lucy Davis has more than she can handle when she gains custody of her grandson.
Florence Stevens has more money coming in than she knows what to do with, but has no idea who has blessed her with this new found wealth.
BPM: What's so unique about their story-line or voice in the story? What makes each one so special?
FPB: The uniqueness of the story-lines is that each character has real life issues that we all have encountered or know someone that is or has gone through them. The way that they handle their individual problems as you read on, makes them special and unique in the sense that the outcome may not be what we expect, but the issue at hand is challenged and overcome to a degree that the character can function in their day to day activities.
BPM: What are some of the other topics discussed in this book?
FPB: I touch on Domestic Violence, Mental Illness, Alcoholism, Police Brutality, LGBTQ, and Drug Abuse.
BPM: Were any of the characters personalities fictionalized versions of people from your years on the force?
FPB: Yes, some of the personalities were. When you spend 28 years, 10 hours a day, 4 days a week, not to mention riots, hurricanes and training (15 hour days) with the same people, you learn them to the point where you know what their next move would be, and what their answers to certain questions would be. So when I was creating my characters, some of my coworkers came to mind for sure.
BPM: Share one specific point in your book that resonated with your present situation.
FPB: My present situation is the closeness that Sidney and Spencer have. They share everything with each other. I based Spencer off of one of my best friends, and we go through a lot. He is the splitting image of Spencer, and we have been to "sizzle" together and he has taken me to the gay bars so that I could really write about the things that Spencer really goes through and the possessive demeanor of Steven, how he acts when he is crushing on Spencer. I really had a blast researching this with him.
BPM: What was one of the most surprising things you learned in creating this series?
FPB: One of the most if not the most is from the feedback of book one; How many people actually related their own experiences with the scenes and characters in the book. They are highly anticipating book two.
BPM: Do you ever have days when writing is a struggle?
FPB: Oh my gosh….yessss, I have days that I just don't want to do anything but chill, watch TV and play "Words With Friends" on my phone. Writing is the last thing that I want to do….it's not often, but it does happen.
BPM: What projects are you working on at the present?
FPB: I am working on a major project right now. I can't say what it is at this time, but when I get the "nod", you will be the first to know. I promise you that!
BPM: What legacy do you hope to leave future generations of readers with your writing?
FPB: I want everyone to know that every book isn't a fairy-tale; that it's not always a happy ending, and that good guys don't always win. It's real out there!
BPM: What is your preferred method to have readers get in touch with or follow you?
FPB: I'm always on Facebook, and IG, so they can send me messages there, they can go on my web-page and we can chat there, I love to interact with my readers. I love hearing from them and reading their feedback. It gives me fuel for the next book.
BPM: How can readers discover more about you and your work?
Website: http://fredericaburden.com
Twitter: https://twitter.com/FredericaBurden
Instagram: https://www.instagram.com/addevon
Facbook Profile: https://www.facebook.com/fparemoreburden
Facebook Fanpage: https://www.facebook.com/booksbyfrederica
Miami Beat Tour Page: https://www.smore.com/u6t3g-miami-beat-the-secret-society
Host Frederica on Tour: http://fredericaburden.com/2018/06/17/host-frederica-burden-on-tour
---
Pearl Page: Audio Postcard for Bookclubs
$79.00 Per Campaign, pay here.

Thank you for listening to this fantastic book preview! This audio-postcard presentation was created by Ella Curry of EDC Creations Creations Media Group. We offer the best in book publishing publicity! Visit the main EDC Creations website today to explore the many services we offer small business owners, event planners, authors and publishers at: http://www.edc-creations.com/publicity.htm We have several packages that will take your products to the top!

Create a Pearl Page Like This One in Minutes! Got a ebook or a new printed book...let us tell the world it's available! Reserve your own personal audio book preview page today and your Pearl Page will be ready for syndication in 3-5 days! Let us share your message with our database for the next 3 months.The bookcover (with link to bookseller) is showcased on Black Pearls Magazine front page sidebar for 3 months too.


Turn your speakers on and click the links. View samples of our various types Pearl Pages:

PP 1, PP 2, PP 3, PP 4 and PP 5

Pearl Pages are emailed to more than 165,000 readers of the EDC Creations newsletter, played on BAN Radio Show 3 times in 3 months and promoted via our mobile bookclub. View here. What a way to share your audio-visual introduction with readers! Fee: $79.00 for complete webpage and audio. Make all payments at the EDC Creations Payment Center, go here today. We look forward to sharing your information with our network! Ella will email instructions within 24-48 hours.