Unlawful Seduction by Sassy Sinclair
(Lawyers in Lust -Book 2)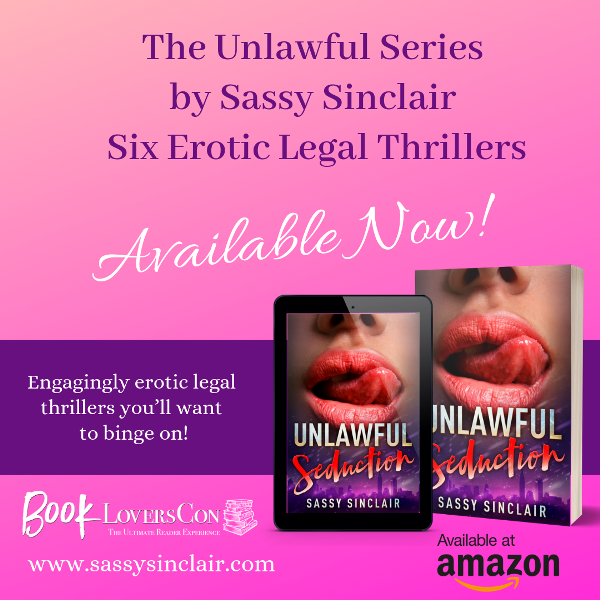 The #MeToo movement takes center stage in this lustful legal thriller that turns the table on sexual harassment in the workplace. Dana Herrington has it all. General counsel at a Fortune 500 company, a fabulous beachfront home and enough money to buy all the trinkets she could ever want. The instant she lays eyes on Spencer McIntyre, she wants him too. There's just one problem. Spencer is the company's newest attorney and Dana is his boss.
Spencer makes it clear that he's happily engaged and tries to keep things professional. But Dana is used to getting what Dana wants. When she turns up the heat, will Spencer fall prey to her seductive ways or rock both their worlds by accusing her of sexual harassment?
Book Reviews
Best Erotic Romance – Romance Slam Jam
Top 25 Best Fiction and Romantic Books to Read Ever – Surejob.in
"I would recommend this if you're looking for a hot and steamy read." – Stranded in Chaos

Amazon Readers Rave

"Wow, this was a hot and steamy book."
"Erotica within a legal thriller. HOT!!!"
"I couldn't put this book down, and didn't until I was finished!"
"This book is off the chain…Didn't stop till I finished."
"Really enjoyed this suspense driven erotic novel. It was fast paced, great character development."
"Erotically alluring, sexy yet sophisticated, and with just the right amount of mystery to keep me excited."
EXCERPT – Unlawful Seduction
Chapter 1
Spencer McIntyre stepped into the room and Dana almost let out a moan as she stood to greet him. The man wasn't just attractive, he was physically exquisite. Well over six feet with olive skin and dark wavy hair, a rugged sexiness vibrated off him like heat from a scorching flame.
"Dana?" Wallace actually nudged her elbow.
She'd been in such a trance, Dana hadn't even realized that the gorgeous hunk had extended his hand.
"I'm sorry," Dana said, offering him her own. "I don't know where my mind was just then."
Spencer's warm, gigantic hand encased hers. He flashed a smile that almost made her wet.
Hmmmm. Large hands.
Dana wondered how large and warm another particular body part might be.
"You have an impressive resume," Dana began, as they sat down around the table.
"I'm kind of a data privacy nerd." Spencer actually blushed. "My friends give me a hard time because I like reading new case law just for fun."
Dana let Wallace ask Spencer the first few questions while she quietly appraised him. She tried, but couldn't quite pinpoint his heritage. He was almost certainly a half-breed. Basic white boy with a mix of Italian, Brazilian or maybe even Persian. There was a hint of Matthew McConaughey in both his smile and his confident swagger.
Even through his suit, she could tell that he lifted weights. It would be a blast to snuggle up to that hard body. She imagined herself straddling him and slipping her tongue between his luscious lips while unbuttoning his shirt and massaging his broad chest.
Spencer's ring finger was bare. Another plus. Dana had no problem sleeping with a married man. A woman who couldn't keep her man from straying deserved to lose him. But the absence of a wife made things less complicated.
"What do you think about that, Dana?"
Damn. She'd zoned out again. Dana had no idea what they'd been discussing. She'd have to wing it.
Her lips angled into a potent smile. "You're the most impressive candidate we've seen so far."
Spencer's smile mirrored hers. This time her juices actually started to flow. She couldn't remember the last time a fully clothed man had gotten her this hot.
"Tell us a bit about your personal life," Dana prodded. "Where'd you grow up?"
"Ann Arbor, Michigan. I have two younger brothers and my parents have been married for almost sixty years. We actually live in the same house my dad grew up in. My mom was born in Rio. Attending USC Law School was my first trip out west."
What a picture of wholesomeness. That only made her hornier for him. She wondered if Mr. Midwest had ever been with a black woman before. Probably not. She was going to love christening him.
"After experiencing just one California winter," Spencer continued, "I was hooked. There was no way I could go back home."
The interview continued for another twenty minutes with Wallace methodically ticking through his list of questions. Dana, meantime, concentrated on all the delightfully nasty little things she wanted to do to the young man sitting inches away from her.
Just like that, Dana made up her mind. Her search was over. She was going to hire the handsome Spencer McIntyre.
She was also definitely going to have him.
( Continued… )
© 2018 All rights reserved. Book excerpt reprinted by permission of the author, Sassy Sinclair. Do not reproduce, copy or use without the author's written permission. This excerpt is used for promotional purposes only.
Unlawful Seduction: An Erotic Suspense Novella by Sassy Sinclair
Amazon Download: http://a.co/d/j2uFH6X
Lawyers in Lust ( 6 Book Erotic Suspense Series ) by Sassy Sinclair
Download both novellas: https://www.amazon.com/gp/product/B07JHSJRPX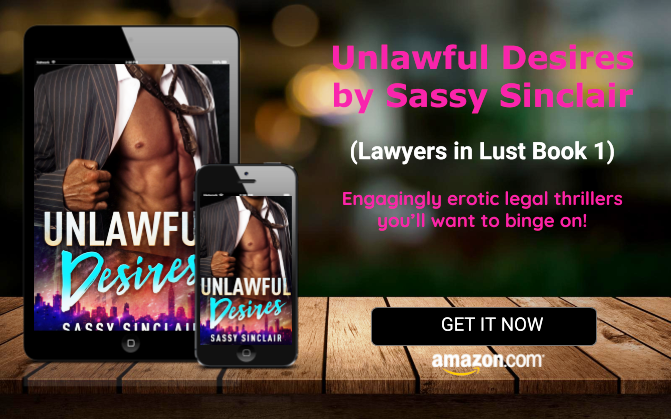 From Book 1 Unlawful Desires: Sparks fly when a handsome lawyer falls hard for a smart, seductive woman who thinks like a man and acts like one too.
Sharla Ratliff is done with having her heart broken. Her new dating rules are simple. No emotion. No expectation of commitment. Sex purely for her own physical enjoyment. Then she meets Marcel Dennard. The attractive lawyer has all the trappings of success: a thriving career, women at his beck and call, and enough money in the bank for the finer things in life. Their lust for each other doesn't just create sparks, it sets off explosions. The sexual attraction between them is so passionately erotic they behave in ways that can only be called reckless. After a shocking series of events place both of their careers in jeopardy, can they restrain their sexual desires long enough to keep everything they've worked for from going up in smoke?
EXCERPT – Unlawful Desires
Chapter 1
Sharla
Sharla Ratliff finally figured it out. The key to protecting her heart turned out to be rather simple: think like a man and act like one too.
All that Steve Harvey crap about not giving up the cookies hadn't worked out for her. Her last serious boyfriend wasted three years of her life. Five months after dumping her, Paul the Prick married some skank he met at the Starbucks on La Cienega and Centinela.
Every guy after him heaped on more hurt, though in much smaller doses. Sharla blamed her dating disconnections on the overabundance of phony, self-centered, knuckleheads in L.A. After taking herself off the market for an entire year, she was now ready to dip her baby toe back into the dating pool.
At 34, she was determined not to repeat the mistakes of her past. Her new dating rules were simple. No emotion. No expectation of commitment. Sex purely for her own physical pleasure. Guys enjoyed sex for what it was without hopeful thoughts of a relationship or even a call the next day. So would she.
And in just a matter of minutes, Sharla planned to put herself to the test with the man sitting inches away from her.
As Derrick steered his Escalade into her driveway, she leaned over and started massaging the bulge in his lap.
"Girl, you're something else." Derrick's hand instantly tightened around the steering wheel. "I can't wait to get with you."
Sharla winked. "Good things come to those who wait."
Derrick's hazel eyes pinned her with a look so hypnotically lustful Sharla had to bite her lip to choke back a whimper. His titillating gaze would've melted the old Sharla right out of her red lace panties. Thank goodness that girl no longer existed.
"I like kickin' it with you, Sharla." Derrick's voice had a raspy smoothness to it.
"Is that right?" She daintily cocked her head to the right. "Tell me more."
"All through dinner I kept telling myself how lucky I was to even be in your presence. You're beautiful. You're smart as hell. You're only nine years out of law school and you're already at the top of your game. You're every man's dream."
Sharla turned to peer out of the passenger window so Derrick wouldn't see her eyes cross in skepticism.
"I bet you say that to every woman you date," she teased.
Derrick's strong fingers squeezed her thigh, just above the knee. "No way. I've never met a woman like you before. I swear."
Normally, Sharla would've swatted away a hand landing that close to her goody bag on only the second date. But tonight, New Sharla was in charge.
Derrick cut off the car, then leaned over and pressed lips as soft and sweet as a glazed donut against hers. The man deserved an A-plus in the lip-locking department.
"Let's go inside." He threw open the door and jogged around to help her out of his SUV.
When they reached the front door, she handed him her keys. It was important to allow Derrick to be in control. Or at least think he was.
Once they'd entered the house, Derrick pulled her into his arms again. He was much thinner than she liked her men. Although she found him attractive, he wasn't her kind of attractive. Sharla preferred thick, well-built guys with a manly, not manicured style. Derrick was a pretty boy with light eyes, thin lips, and a shaved head.
For her first attempt at acting like a man, Sharla had intentionally selected a guy she wasn't physically wild about. That, she assumed, would help keep her emotions in check.
"I swear I've been dreaming about getting with you," Derrick mumbled, brushing her ear with those cottony-soft lips. "No female has ever got me this horny before."
Probably because your cute behind never had to wait two weeks to get some.
Taking Derrick's hand, Sharla led him down the hallway toward her bedroom. She turned on the crystal lamp on the nightstand and a soft, blue haze bathed the room with a sexy, nightclub ambiance.
"I can't believe I'm about to get with you," Derrick muttered as he unbuttoned his shirt and unzipped his pants.
Old Sharla was trying to resurface, but New Sharla fought her off.
Just do it. For once in your life, experience an orgasm with no expectation of anything except fun.
New Sharla was right. She should just go for it. She was about to get busy with a man for whom she felt no emotional connection whatsoever. And that was progress.
Or was it?
Derrick gazed up at her, his tongue wagging like a thirsty German Shepherd. "C'mon, baby. Big Daddy is ready. Bring it on."
The second his fingers grazed her waist, Sharla pushed his hands away and took a giant step backward, out of his reach.
"Um, I—I changed my mind," she blurted out.
Snatching her dress from the floor, she covered her nakedness with a curtain of regret.
"I'm sorry. I just can't do this!"
( Continued… )
© 2018 All rights reserved. Book excerpt reprinted by permission of the author, Sassy Sinclair. Do not reproduce, copy or use without the author's written permission. This excerpt is used for promotional purposes only.

Lawyers in Lust by Sassy Sinclair - 6 Erotic Suspense Novellas
https://www.amazon.com/gp/product/B07JHSJRPX

#MeToo, #Erotica, #Suspense, #Novella, #SeducingThePen, #SassySinclair, #Reading4Pleasure
---
Intimate Conversation with Sassy Sinclair
If erotic romantic suspense is your jam, you'll just love author Sassy Sinclair (aka Pamela Samuels Young)! Did we mention that Sassy will attend Book Lovers Con in 2019? You can meet her in NOLA! May 15-19th, 2019 at the The Hyatt Regency New Orleans. Register for #BLC19 at https://www.bookloverscon.com/registration
Sassy Sinclair is an attorney and award-winning author who writes captivating tales about lawyers with a sexy twist. Her first erotic suspense novella, Unlawful Desires, was honored as Best Erotic Romance by Romance Slam Jam. Unlawful Seduction is the second book in her Lawyers in Lust novella series. Sassy has also penned several legal thrillers under the name Pamela Samuels Young. Pamela's mystery, Anybody's Daughterwon the NAACP Image Award for Outstanding Fiction. For a complete list of her books, visit
www.sassysinclair.com
and
www.pamelasamuelsyoung.com
.
BPM: It is such a pleasure to have you join us to discuss, Unlawful Seduction. Describe yourself in three words.
Fun, hard-working and faith-filled.
BPM: What motivated you to publish your first erotica series?
I love reading erotica, but for years I was too embarrassed to write it. I finally decided to give it a go and I'm thrilled that I did.
BPM: What was one of the most surprising things you learned in creating your body of work/books?
That marketing my books is a lot harder than writing them.
BPM: Tell us about your most recent work. Available on Nook and Kindle?
Unlawful Seduction turns the table on the #MeToo movement. When a handsome young lawyer is sexually harassed by his female boss, his world is turned upside down. He soon views workplace harassment from a totally different perspective. Unlawful Seduction is available on both the Kindle and the Nook and will soon be available on Audible as well.
BPM: Introduce us to the people in the book! Give us some insight into your main characters.
Dana Herrington is general counsel of a Fortune 500 company. She's used to getting what she wants and what she wants is Spencer McIntyre. But Spencer has no interest in his boss and makes that more than clear. But Dana will not take no for an answer.
While Spencer naively starts out hoping for the best, he soon has to dig deep and face his own fears. Dana, who is totally self-centered, assumes that she's untouchable. And she is…for a while.
BPM: What's so unique about their storyline?
What's unique is that we don't see stories about men being sexually harassed. Unlawful Seduction takes aim at gender stereotypes and how men and women are treated in the workplace.
BPM: Are there certain characters you would like to go back to or is there a theme or idea you'd love to work with?
Dana Herrington, the harasser, is an interesting and complex character that I would love to revisit in another book. She's totally into herself and thinks only of her own needs. She probably the most unethical character I've ever written.
BPM: Have you ever received a rejection from an agent or a publisher?
Yes, tons of them. But so have many New York Times bestselling authors. You simply have to believe in yourself and keep pushing forward.
BPM: Do you ever have days when writing is a struggle?
Absolutely! When that happens, I take a break, do something fun (like read a good book, get a mani-pedi, or have some ice cream) and start a fresh the next day.
BPM: Have you written any other books that are not published?
In Firm Pursuit, the first book I wrote (as Pamela Samuels Young) originally didn't get picked up. After I sold Every Reasonable Doubt, I rewrote In Firm Pursuit, which was released as my second legal thriller.
BPM: What projects are you working on at the present?
I'm currently working on the next novella in the Lawyers in Lust series, Unlawful Revenge. I'm also mulling over my next legal thriller, which deals with a family dispute over a will. The working title is Family Trust.
BPM: How do you stay connected with others in publishing and your readers?
I stay connected with readers via social media and book clubs. I connect with other authors at various writing conferences. I also read writing journals and publications to keep up to date on what's going on in the publishing world.
BPM: What is your preferred method to have readers get in touch with or follow you?
I love connecting with readers on Facebook and Twitter. I'm trying to get better at Instagram as well!
BPM: How can readers discover more about you and your work?
You can visit Sassy Sinclair's website at www.sassysinclair.com and reach out to her on social media at:
Twitter: https://twitter.com/authorSassy
Facebook: https://www.facebook.com/Authorsassysinclair
Instagram: https://www.instagram.com/authorsassysinclair
---
Pearl Page: Audio Postcard for Bookclubs
$79.00 Per Campaign, pay here.

Thank you for listening to this fantastic book preview! This audio-postcard presentation was created by Ella Curry of EDC Creations Creations Media Group. We offer the best in book publishing publicity! Visit the main EDC Creations website today to explore the many services we offer small business owners, event planners, authors and publishers at: http://www.edc-creations.com/publicity.htm We have several packages that will take your products to the top!

Create a Pearl Page Like This One in Minutes! Got a ebook or a new printed book...let us tell the world it's available! Reserve your own personal audio book preview page today and your Pearl Page will be ready for syndication in 3-5 days! Let us share your message with our database for the next 3 months.The bookcover (with link to bookseller) is showcased on Black Pearls Magazine front page sidebar for 3 months too.


Turn your speakers on and click the links. View samples of our various types Pearl Pages:

PP 1, PP 2, PP 3, PP 4 and PP 5

Pearl Pages are emailed to more than 165,000 readers of the EDC Creations newsletter, played on BAN Radio Show 3 times in 3 months and promoted via our mobile bookclub. View here. What a way to share your audio-visual introduction with readers! Fee: $79.00 for complete webpage and audio. Make all payments at the EDC Creations Payment Center, go here today. We look forward to sharing your information with our network! Ella will email instructions within 24-48 hours.